$29.90 / 30 Days
In conclusion, I would say if you are up for older women, which I know you love or you wouldn't be here reading how good or bad I think this site is. It's not unique in the fact they are handjob porn videos, they are unique in the fact that it's jam packed full of videos all with over 40 women jerking and sucking younger men's huge cocks. Check out Over40handjobs and see for yourself how hot it is to watch older women with a big fat cock.
Pros
Many HD movies (new ones are all HD)
Exclusive content
11 Bonus sites
Over 40 Handjobs Review
Ok, how many of you are a little tired of these teens and want to see some real women, women with a few years on them and a little more experience. Women that have boobs and not flat on top? This place I am looking at today may just be of interest to you. It's packed full of real amateur women and pornstar models, and the only rule, they must be over 40, after all, that is the name of the site, Over40Handjobs. This site showcases those women that most men will want if they are honest. I've seen men who say they are all into teens, but if their pals aren't around, they will go after those older, horny amateur women every single time.
Let's take a look at just one of the many very sexy videos you will see here. Nine Elle is married to Joeys dad and she has been wanting to play with his cock since she seen him jerking off one morning when he thought they were asleep. Her husband said that handjobs are not cheating, so when he was out to work one afternoon, she decided to take advantage of that fact. Joey is about to have the luckiest day in his life, all his friends were always coming over just to get a load of her, she was the hottest "mom" they had ever seen. She grabs his cock and strokes it while she takes off her panties and reveals her shaven wet pussy. She drained his massive cock of all the semen he had to offer her.
Older women over 40 give great handjobs
Nine Elle is just one of the many unique and high quality videos you are going to get here. Whether you want to call them milfs, granny porn, whatever you want to call them, their age is their advantage and yours. You have never had a great handjob until you have had the hands of an older woman wrapped around your cock or her mouth taking it in, while sitting between your legs waiting to catch your fresh cum all over their huge milf titties. There are 157 older models and counting on Over 40 Handjobs.
Let's do this, right? Enough teasing, let's go in and check out this members area and see what's going on in there. I am landing on the landing page here and got a nice welcome popup from the owner of the site. There is a news/advertising page there with network updates listed. According to this, you are going to get a full network pass for one membership, so 11 sites total.
Some of these sites are Club Tug, Teen Tugs and Cum Blast City. All of the handjob porn sites are of equal or even better quality compared to Over40Handjobs. Perhaps the only thing I will frown on is the fact it shows the last news being from a few weeks ago. Things like news should be updated more there, reason being is that in the upper navigation, I see "updates" and that part is updated quite frequently. So, they do update the network often with new content, someone should just remind them to update the "Latest News" once you land there, right?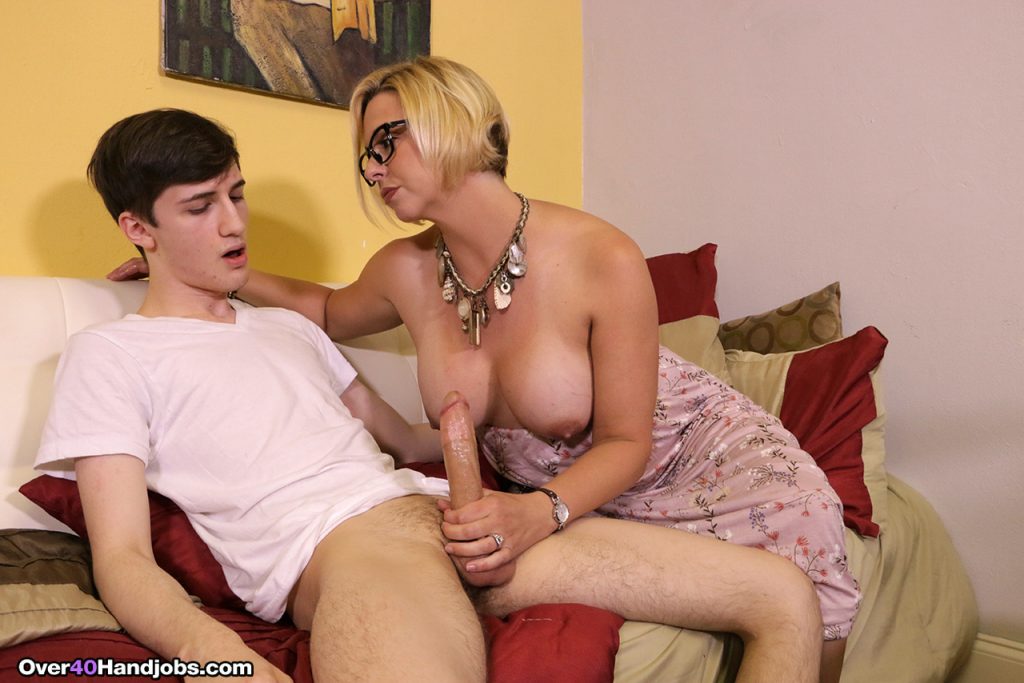 All in all, the content you get here is more than what you would expect and all of it is in great hi-def (HD) quality. You have access to any and all downloads and that is unlimited, they don't cap it after a few, it's all you can watch and jerk off to. Over 40 Handjobs seems to get new content around twice a month on average.
Membership options
| | |
| --- | --- |
| $29.90 | 30 Days |
| $59.90 | 90 Days |
| $94.90 | 360 Days |
| | Cross Sales: 1 pre-checked |
| | Independent Billers: Epoch, CCBill |
Video & Photos
Number of movies
200+
Number of pic sets
200+
Average Length
10 mins
Average pic set size
80
Streaming
Yes
Zip sets
Yes
Download Limits
No
High Res pics
Yes
Video Formats
MP4 (1280×720; 3183k)
Streaming (1280×720; 3183k)